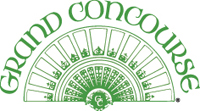 I apologize for the void that has been September. I have two wonderful excuses for this. The first is that our house has been swarming with construction workers, laboring diligently to get our third floor fitted out before we open our doors for the Lawrenceville Hospitality House Tour this Sunday. Although the boys of Geyer Construction have done a stellar job of keeping the house as clean as possible, it is inevitable that dust and dirt has made its way to nearly every corner of the house, including the kitchen. Needless to say, I have not been inspired to do much cooking, let alone be creative about it. My second excuse is a far more glamorous; my wonderful sister-in-law got married and I had the honor of standing at her side for the big event. You may remember the preceding posts, Part I and Part II about the shower we threw for her back in August.
The wedding itself was an unforgettable event hosted at the beautiful Grand Concourse restaurant in Station Square; it seems only logical that it should be the subject of this first post-wedding review. The selections for dinner included a petit filet, mahi mahi and a vegetarian meal. As usual, I picked the petit filet and my husband the mahi mahi. I love him to death, but he always does this. When we are choosing our meals for the wedding he always goes with the fish or the chicken and then when they set my steak in front of me he gets food envy. This evening was no exception, he went so far as to attempt to steal my meal before it even hit the table. The waitress came around and asked which of us had order the filet, he proclaimed that he had. I turned abruptly with a bewildered look in my eye, and corrected him. He was shocked at this truth and began planning how we should share our meals. No go. Although my sister-in-law and her groom have a very open relationship when it comes to food, they exchanged plates half way through their meals in newly-wedded bliss, I have a more weathered and selfish approach to meal time with my husband. Anyway, I am so glad I kept my eye on the prize because the filet delivered to me was perfectly done, a nice pink, juicy medium. Steak can be tricky business when you are serving it to a couple hundred people at one time, easy to overcook. The Grand Concourse pulled through and delivered a beautiful filet. After indulging in my meal, I guess the romance of the night got to me, my love and I exchanged bites of each others' meals. It was adorable. And worth it. The mahi mahi was equally as satisfying. I should also note that we started with a simple salad dressed with a maple-something-or-other vinaigrette that was amazing! The food was a homerun on the part of the Grand Concourse. I would also like to comment on the appetizers, but its hard for me to recall each item being that I scarfed them down with reckless abandon. No one told me that being a bridesmaid would be an exercise of fasting in the hours leading up to the event...I was just too nervous to eat!
If you have never been to the Grand Concourse, I highly recommend giving it a shot and taking in the antique atmosphere of the re-imagined train station. It is a gorgeous building, well preserved as a historic landmark by the Pittsburgh History & Landmarks Foundation. This wedding was the first time I had eaten there in quite some time, but the Grand Concourse has become well known for their Sunday brunch if you are looking for something more low-key. But whether it is brunch, lunch or dinner it will surely be an elegant and reminiscent dining experience.